L'interesse per i lupini, semi della pianta Lupinus albus, appartenente alla famiglia delle Fabacee, è in continua crescita in quanto molti studi hanno dimostrato le loro preziose proprietà benefiche.
Questi antichissimi legumi, infatti, devono molte delle loro virtù nutrizionali alla ricchezza di vitamine A,B e C, omega 3 ed omega 6, oltre alla presenza di minerali essenziali per il corretto funzionamento del nostro organismo, tra i quali: zinco, calcio, ferro, potassio, manganese e fosforo; di proteine e grazie al ridotto contenuto di zuccheri.
Proprietà benefiche e utilizzi in cucina
I lupini godono di numerose proprietà benefiche:
combattono la stitichezza
sono consigliati contro l'ipertensione
contrastano la glicemia
prevengono le malattie cardiovascolari
sono preziosi contro il diabete tipo 2
aumentano il senso di sazietà
aiutano a dimagrire nell'ambito di una dieta ipocalorica e bilanciata
assicurano una perfetta densità ossea
proteggono i muscoli
neutralizzano gli effetti nocivi dei radicali liberi
sono antitumorali (agiscono, in particolare, nella lotta al tumore al colon)
promuovono le funzioni immunitarie
depurano l'organismo
eliminano le tossine
prevengono i danni cellulari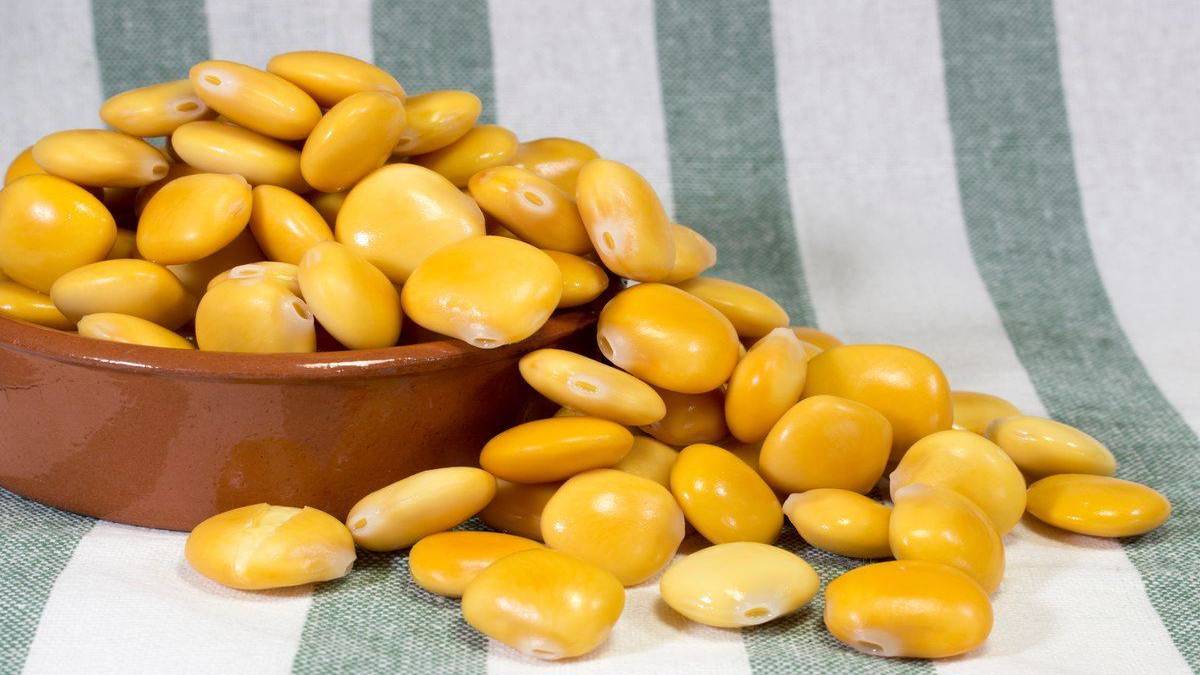 Energetici e nutrienti, largamente consumati da vegetariani e vegani, i lupini trovano tantissimi utilizzi in cucina.
I semi, dopo essere stati raccolti, vengono sottoposti, prima del loro consumo, a operazioni di lavaggio e ad ammolli con sostanze acide/saline e messi in salamoia.
La farina di lupini, abbinata ad altre farine di cereali o pseudocerali, si presta benissimo alla preparazione di frolle, dolci lievitati, creme dall'aroma deciso e penetrante.
Dai lupini si ricavano yogurt, latte, pseudo-formaggi, un delizioso pesto. Con essi si possono preparare nutrienti hamburger e polpette vegetali mentre, assolutamente da provare, è la maionese di lupini.
Controindicazioni
Come ogni alimento, anche questi legumi hanno le loro controindicazioni:
un eccessivo consumo può dare un effetto lassativo
non possono essere consumati da chi soffre di allergie ad arachidi, lenticchie e fagioli
se dovessero avere un sapore amaro, dovuto alla non rimozione degli alcaloidi, potrebbero portare a una sorta di avvelenamento, causando febbre, stati confusionali, vertigini, aumento della pressione sanguigna.
Curiosità sui lupini
Citati persino da Giovanni Verga ne "I Malavoglia" in cui vengono narrate le vicissitudini di questa famiglia che perse un carico di lupini, questi legumi erano noti ai Greci e ai Romani che li utilizzavano al posto della carne, specie nei lunghi spostamenti a piedi effettuati dagli eserciti.
Tracce di semi sono state rinvenute nelle piramidi egizie e nelle tombe maya.
FONTE: Ambientebio
(ENGLISH VERSION)
The interest in lupins, seeds of the Lupinus albus plant, belonging to the Fabaceae family, is constantly growing as many studies have shown their precious beneficial properties.
These ancient legumes, in fact, owe many of their nutritional virtues to the richness of vitamins A, B and C, omega 3 and omega 6, in addition to the presence of minerals essential for the proper functioning of our body, including: zinc, calcium, iron, potassium, manganese and phosphorus; protein and thanks to the reduced sugar content.
Beneficial properties and uses in the kitchen
Lupins enjoy numerous beneficial properties:
they fight constipation
are recommended against hypertension
counteract blood sugar
prevent cardiovascular diseases
they are valuable against type 2 diabetes
increase the sense of satiety
they help you lose weight as part of a low-calorie and balanced diet
ensure perfect bone density
protect the muscles
neutralize the harmful effects of free radicals
they are anticancer (they act, in particular, in the fight against colon cancer)
they promote immune functions
cleanse the body
eliminate toxins
prevent cell damage
Lupine seeds: energetic and nutritious, they lend themselves to an infinite number of culinary uses but should not be eaten bitter.
Energetic and nutritious, widely consumed by vegetarians and vegans, lupins find many uses in the kitchen.
 
The seeds, after being collected, are subjected, before their consumption, to washing operations and to soaking with acid / saline substances and put in brine.
Lupine flour, combined with other cereal or pseudo-cereal flours, lends itself well to the preparation of shortbreads, leavened desserts, creams with a strong and penetrating aroma.
Lupins make yogurt, milk, pseudo-cheeses, a delicious pesto. With them you can prepare nutritious burgers and vegetable meatballs while, absolutely must try, is the lupine mayonnaise.
Contraindications
Like any food, these legumes also have their contraindications:
 
excessive consumption can give a laxative effect
they cannot be consumed by those suffering from allergies to peanuts, lentils and beans
if they were to have a bitter taste, due to the non-removal of the alkaloids, they could lead to a kind of poisoning, causing fever, confusional states, dizziness, increased blood pressure.
Interesting facts about lupines
Quoted even by Giovanni Verga in "I Malavoglia" in which the vicissitudes of this family who lost a load of lupins are narrated, these legumes were known to the Greeks and Romans who used them instead of meat, especially in the long journeys on foot made by armies.
Traces of seeds have been found in the Egyptian pyramids and in the Mayan tombs.
SOURCE: Ambientebio